How much should I pay for a Wedding DJ?
4/23/18 | Posted by Flowzone Entertainment, LLC
This is one of the questions that often comes up during wedding planning. As with many other aspects of your wedding, it depends... The average cost of a wedding DJ in Southern California (Los Angeles, Orange County, San Diego, etc.) is currently $1375. As you shop around, you may see prices ranging from $800 - $5000 (sometimes higher and sometimes lower). Why is there such a vast price range? What is the difference? Are the more expensive DJs worth it? Let us explore a bit.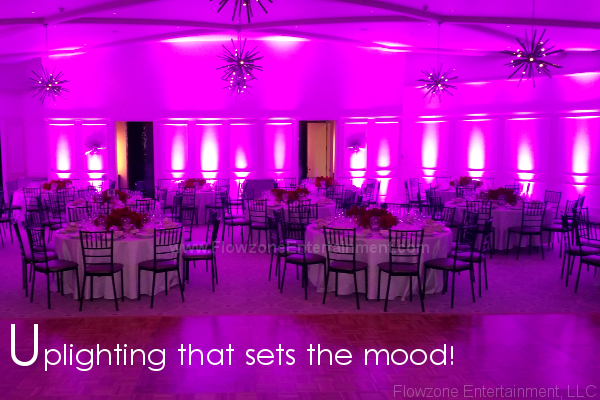 See more of our Wedding DJ and Lighting here.
Perhaps, we should look at it as seeking wedding entertainment & production, instead of simply a wedding DJ. Yes, some DJs are simply a DJ. They show up and play music. End of story. Many DJs in the wedding industry have evolved past simply playing music, though. You'll notice that some wedding DJs are also skilled MCs or Hosts. They are confident and charismatic on the microphone. These qualities enable them to captivate a crowd, guide the guests through the evening's formalities (like handling the grand entrance), and even motivate dancing when the time comes. Sometimes a company will have 1 person DJ and 1 person MC during a wedding for more flexibility. Some entertainment/production companies and DJs also offer lighting services as well. Lighting is a major part of modern weddings as it can really transform a venue and set the mood.
Luxury Weddings
Think of shopping around for wedding entertainment (or a wedding DJ) as something similar to shopping for a new car. There are many options. You can buy a brand new Ford Fiesta S for $14,925 or a Rolls-Royce Phantom Coupe for $438,325 (and everything in between). Any car you purchase will serve as a mode of transportation. The experience, however, is very different depending on your decision. The same goes for wedding entertainment. If you have ever attended a high-end wedding, the experience is very different than a simple wedding done in a backyard or the local community center. At a high-end / luxury wedding, the venue usually has stunning architecture. The wedding entertainment has provided beautiful lighting that brings the space to life, chest-thumping sound, a DJ with seamless transitions, and a lively MC. They may also provide other extras like flat screen displays, projection, custom monograms, trussing, and more. The DJ or company should have years of experience as well. All of this increases the chances of the outcome you desire on your big day. Can you have a fun wedding at the local community center with an inexperienced DJ that isn't comfortable on the mic, and only provides tacky/cheap lighting? Yes, it is... possible... It is also possible for an inexperienced surgeon to "successfully" perform surgery in a basement without advanced tools, the latest devices, assistance, and technology. The experience and the extras make the outcome you want much more likely. More possibilities for personal customization become a reality as well. Why not have an experience that is better in just about every way? It all depends on what you want, what you can afford, and how important it is to get the results you desire on your special day.

All in all, you will usually get what you pay for, so it is important to manage expectations. It is extremely unfair (and unrealistic) to expect a DJ that is charging $700 to have 7 years of experience, premium sound, full room uplighting, intelligent dance floor lighting, flat screen displays, MC abilities, back-up equipment, insurance, and/or any other extras. It often requires a team to be able to transport and set up for an event with these requirements. You may, however, get lucky and find somebody who is new in the business and willing to do the event for cheap to get their name out there. This usually comes with some kind of compromise, though. They probably won't have very much experience, and it will show. They probably won't have any insurance or backup equipment either. We have heard many stories of a DJ racing to set up or break everything down on his own - because he desperately wanted to give the client a luxury experience at a cheap cost (making it impossible to hire an assitant to help set up/breakdown). The bride and groom either have to deal with the reception starting late, or they get stuck with an over-time charge from the venue (as many venues require both guests and vendors to be off the premises at a certain time). Is it worth it? No.

This goes for every other aspect of your wedding as well. For example, the photos you get from a $3000 photographer are usually very different than the photos you get from an $800 photographer. At $800, they can't afford the best camera, lenses, lighting, etc. They can't afford a second shooter or somebody to handle the lighting either. If you're paying below average prices, you should expect average results at best. Make sure your DJ (or any other vendor) has experience. Look at their website and their social media (if they have any). Examine the photos and videos of their past events. You should like and trust your DJ as well. After all, they are in charge of bringing the fun on your big day. Communication is important because you and your vendors should have a clear understanding of what is expected for this major life moment. This is your wedding.