About
-The Company-
Flowzone Entertainment, LLC. is a production and entertainment company that was established in 2010 by Vaughn Johnson. We have specialized DJs, MCs (hosts), lighting designers, photographers, videographers, and event planners/managers for all kinds of special events. We can create unique and memorable events that are sure to leave a lasting impression on all of those who attend. There is communication with everyone that is a part of the production. This allows us to create special moments and capture them as well. Every event requires an element of planning and production to increase the chances of a successful outcome. Our event planners and managers are able to fine-tune each aspect of your event for the results you want. Whether it is a corporate gathering, a wedding, or any private party - we know these areas very well and we're prepared to take it to the next level. Simply put, we aim to bring our clients' dreams to life. We bring luxury, style, and FUN to the table to make this a possibility.
In the spirit of staying true to the roots of the CEO, the company still offers production, recording, live music, and label services as well. Our unique blend of services creates a world of possibilites. We can produce custom grand entrance music for any event. We can also capture any event on video. Do you want a lot of dancing at your event? Great! We have the formula needed to pack the dance floor. We have even facilitated live performances at special events. There are no boundaries!

Each event or project is unique with a focus on presentation, professionalism, and satisfying the targeted audience. There is usually a theatrical and artistic element that comes with our work. Vaughn, the owner, personally chooses anybody that works with the company. They are carefully trained to meet the highest of expectations. Whether you need a DJ for your special event, the right music for a commercial, or an MC/Host for a grand opening ceremony - we've got you covered. Visit our Services section to see what we offer. Engage your senses and enjoy "The Art of Entertainment" ™
We have seen it all!
We can transform just about any venue for your special event! Ask around and you will find that people that want a memorable experience and upscale services know our name. We do many events in Calabasas, Santa Barbara, Beverly Hills, the San Fernando Valley, Santa Clarita, the Inland Empire, Southgate, Yorba Linda, Lake Forest, San Diego, and San Franciso to name a few. We do many weddings, mitzvahs, fundraisers, celebrity functions, and many other special event productions in these areas.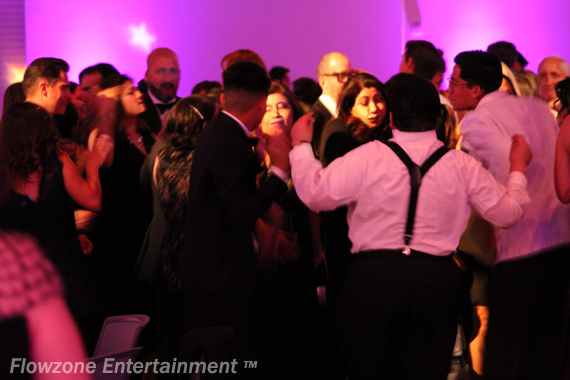 As a result of being in the business for so long, we have seen Christian weddings, traditional Jewish weddings, traditional Indian weddings, themed weddings, and pretty much everything in between. We welcome them all and we have the best DJ and MC for your special day!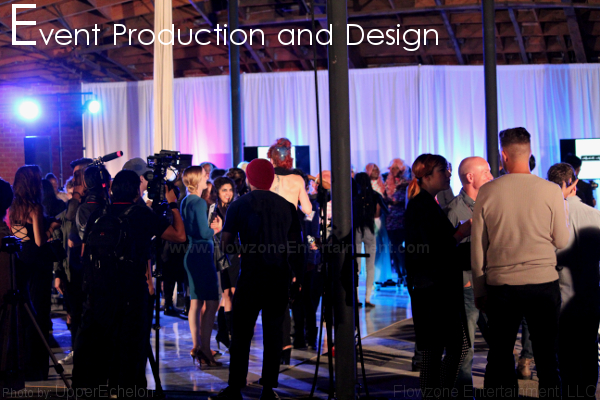 There are a lot of beautiful luxury venues in the area like, The Taglyan Complex, Hotel Bel-Air, The newly renovated Waterfront Beach Resort, and many others. Couples, planners, designers, and all other clients are amazed by how we can take a venue that was already stunning, and enhance it even more with our lighting designs. Every DJ and Master of Ceremony from Flowzone Entertainment is properly trained. We show up looking sharp and guests know that everything is under control once the first words are spoken into the microphone.

We always bring the right sound system for the venue as well. We pump clean sound with robust bass. We don't "max-out" our systems because they are powerful enough to deliver club-sound without the harshness that comes from pushing it too hard.
Email us at: FlowzoneEntertainment@gmail.com or give us a call at 800.401.8223